The Search for the Skil 2040 Flexi-Brite Flashlight

I'm looking for a particular Skil rechargeable flashlight.

About three years ago Around 2002, I bought a Skil electric screwdriver, and this flashlight came bundled with it. They both use the FlexiCharge 3.6v batteries. The flashlight has a "D" shape, and is about 6" long overall.

Recently, mine has been "borrowed" and I can't find a replacement flashlight that I like, or that will take the (several) FlexiCharge batteries I have. I'm willing to pay a ridiculous amount of money to find one or two of these flashlights. I've contacted Skil, and they say that they can't help, that the unit has been out of production for two years, etc. I'm hoping that one of you has one or more of these critters and will condescend to sell one to me.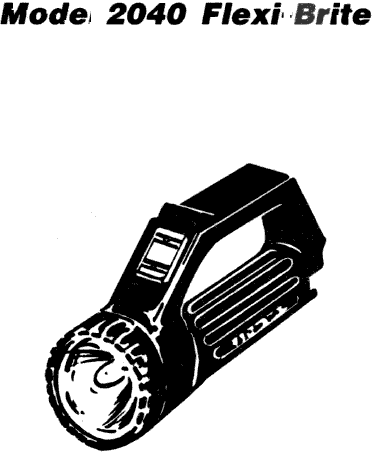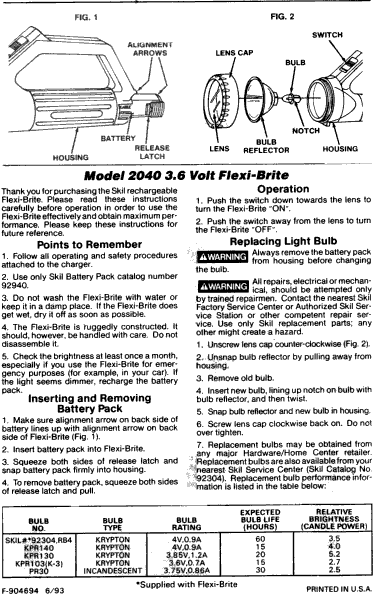 I want this flashlight! You got one? Let me know.
23-Dec-99: Keith Lewis <thundermaker@yahoo.com> emailed me a couple of weeks ago, and supplied this link with more info on the unit: http://www.skiltools.com/cd-html/s3k00018.htm This link is now dead, 04-Oct-01.
23-Oct-05:
A long time ago, I received this email:
=====================================================================
From: "Randy Barnett" <rbarnett@obscured.edu>
To: <asavage@iname.com>
Subject: Skil Flexi-Bright Available Again
Date: Wed, 5 Dec 2001 17:20:31 -0500
Skil is now bundling the flashlight with a flexi-charge drill (along
with a dual recharger and 2 batteries). I bought the combo unit today
from a Skil repair facility in Norwood MA for $24.99. The product
number on the box is 2236:12. The phone number there is 781-255-0272.
__________________________________________
Randy E. Barnett
Boston University School of Law
=====================================================================
I ordered one and received it -- it's great to
have one again! I think they're "refurbished", but look in very
good condition. Too bad I don't need or want the screwdriver, but it
does come with two batteries -- I kind of doubt that the batteries are
new, but they do work.
Send mail to asavage@iname.com
Back to Al's home page
Last updated 23-Oct-2005 03Mar2019: no longer looking for one of these flashlights; have been using Streamlight Stingers for at least a decade! ALS