1975
Mercedes 300D
(A car I used to own)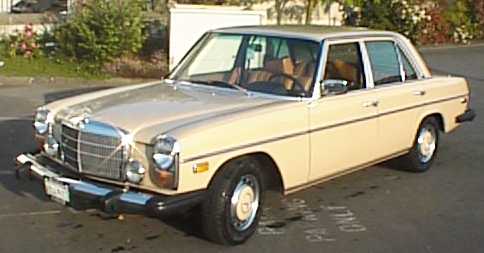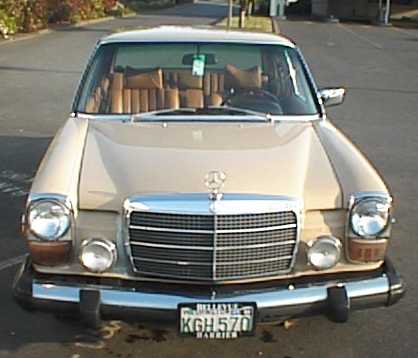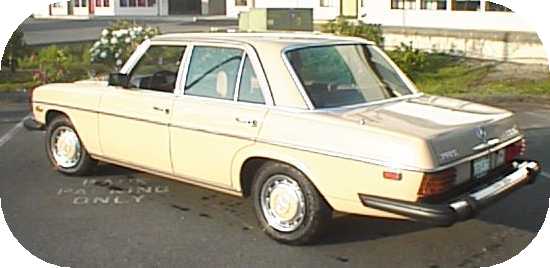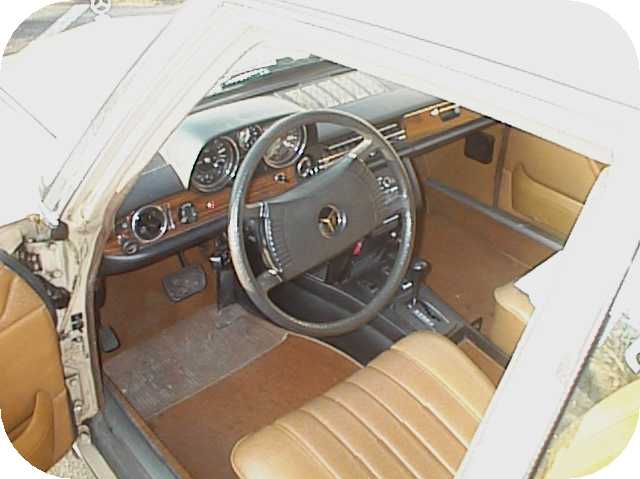 ---
Unexpected medical expenses forced sale in Sep-98.
'75 Mercedes 300D sedan (5 cylinder diesel).
Tan exterior is good; these pictures show the color more
yellow than it actually is.
Medium brown vinyl (NOT leather) interior is perfect.
156k miles. Doesn't smoke or leak oil. Oil consumption
is a quart per 650 miles, using Castrol Syntec 5w50.
Mileage is 24-26 mpg.. The airconditioning has just been
serviced, with the receiver/drierhaving been replaced.
Power door locks, power steering,four speed automatic,
power brakes, power antenna.
Original Becker Europa radio. Intermittent wipers. New (less than 5k
miles) Michelin tires. New (professionally rebuilt) driveshaft ($450)
and u-joints, carrier bearing. New glow plugs; one burned out and
I replaced them all.
Power windows work flawlessly.
NO sunroof (no leaks!).
Original owner's manual. Absolutely NO rust. Paint is good to
very good -- some flaws exist, but they're minor.
I only owned it five months.
I had no documentation other than the owner's manual, which appears to belong to the car, and indicated that the first service work at 3k miles was performed in Visalia, Calif., so I assume it lived in California for part of its life. It has "Barrier" plates, so I assume it lived in Bellevue for a while.
* The turn signal lever doesn't stay up or down most of the time, although the signals themselves operate well; the mechanical portion of the switch appears worn. And it doesn't like to be run with less than 1/4 tank of fuel, although the filters have been changed.

04Mar2019: I believe the problem mentioned above, running out of fuel when below 1/4 tank, may have been one or both: in-tank fuel strainer screen plugged, which is a very common problem; or, supply & return lines connected reversed.
Back to Al's home page
Last updated 29-Sep-2000 04Mar2019