Mutant Toll House Cookies
(MTHC)
---
09Dec93

Mutant Toll House Cookie Recipe

2          Eggs
2          1/4 lb sticks butter, softened (Darigold)
1 t        Baking soda
1 t        Salt
3 T        Vanilla extract (that's [b]tablespoon[/b], and real, not imitation)
¾ C        Brown sugar  (I like C&H, but substitutions are allowed)
¾ C        White sugar
1/3 C      Molasses (optional)
1 C        Whole wheat flour
1¼ C       White flour (bleached or unbleached)
1 C (6 oz) Semi-sweet chocolate chips (Nestlé or equivalent quality)
1 C (6 oz) Vanilla chips (very important: Guittard "Choc-Au-Lait", not Hershey or Ghirardelli)
¾ C        Shelled & chopped walnuts

Preheat oven to 350°. Cream butter, soda, salt, vanilla, sugars, eggs, and molasses. Mix in flours; no sifting is required. Add chocolate & vanilla chips, and walnuts if desired. Drop by tablespoon or heaping teaspoon onto ungreased cookie sheets. Bake for 14 minutes. Makes 3½ - 4 dozen.
Tips & Notes: This is pretty much based on the well-known Nestlé Toll House recipe, except: the amount of vanilla is tripled, molasses works to darken and crispen the product, and the whole wheat flour changes the texture to produce a coarser feel. Oven temperature is higher than Nestlé's, and baking time is longer, although this varies from oven to oven that I've used; if you're used to "baking by color" these critters will fool you, as the molasses and whole wheat flour (and the unbleached white flour, if you use it) will have you pulling them out too soon.
The biggest factor to sucess that I've found is the degree to which you soften the butter; too much and you get "cow pies"; too little and the butter will not cream with the other ingredients. You *can* compensate by adding more flour; the result is a "cakier" cookie that some enjoy (use about 1/3 C more white flour for this). I place the sticks of butter in my large stainless bowl, then place it in my microwave for 40 secs on high. This only works if you have a metal bowl which will not touch the sides of your microwave. I've also put the bowl over the oven vent, but this can over-soften if you're not careful. Best of all is to take the butter out of the 'fridge in the morning and leave at room temperature for the day, which is just about perfect. If you accidentally over-soften, place the creamed ingredients in the freezer for 10 minutes or so -- this will pull the consistency back to shape.
I recommend Darigold butter, and the use of real vanilla is recommended; the use of margarine or imitation vanilla extract will change the flavor of the product more than any other substitution you might make, so don't skimp here. Also the Guittard Vanilla chips (in the metallic blue package) are the best I've tried, much better than the Hershey. Be aware that there's another Guittard product in a similarly colored package, but it's a milk chocolate product, not vanilla chips.
---
20201211 ALS
Guittard long ago changed the packaging of the Choc-Au-Lait vanilla chips to use more subdued colors. Today, I found that they've discontinued that intermediate product, and now don't use the word "vanilla" in the title: now it's still "Choc-Au-Lait", but instead of "Vanilla Milk Chips" they're now called "Gourmet White Baking Chips (made with Cocoa Butter & Tahitian Vanilla)" The ingredients list is almost identical between the two, with the now-discontinued one using cream & whey, and the current offering using nonfat milk & butter (and the vanilla is now explicily Tahitian).

Circa 2010: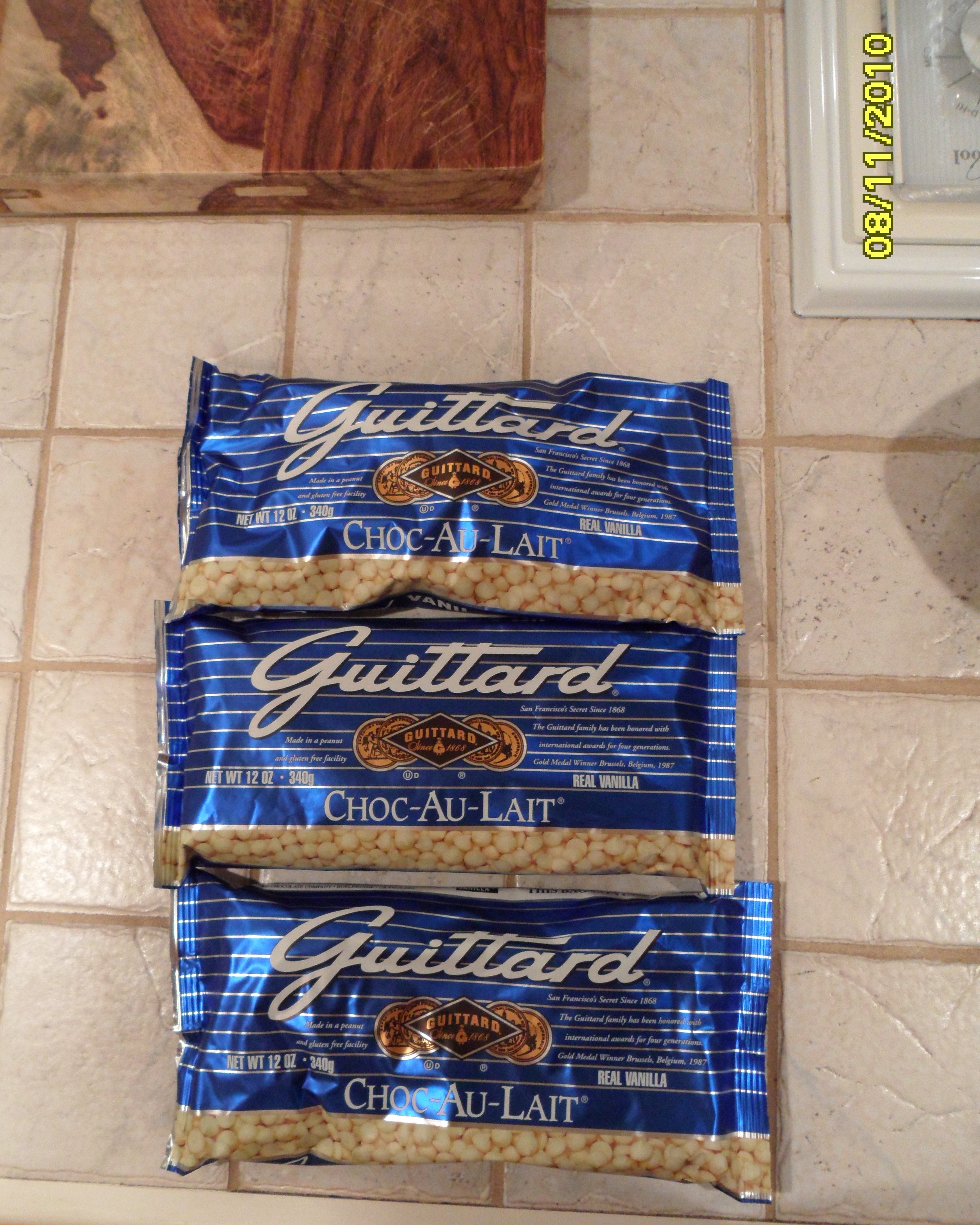 2020 (discontinued upper; current lower):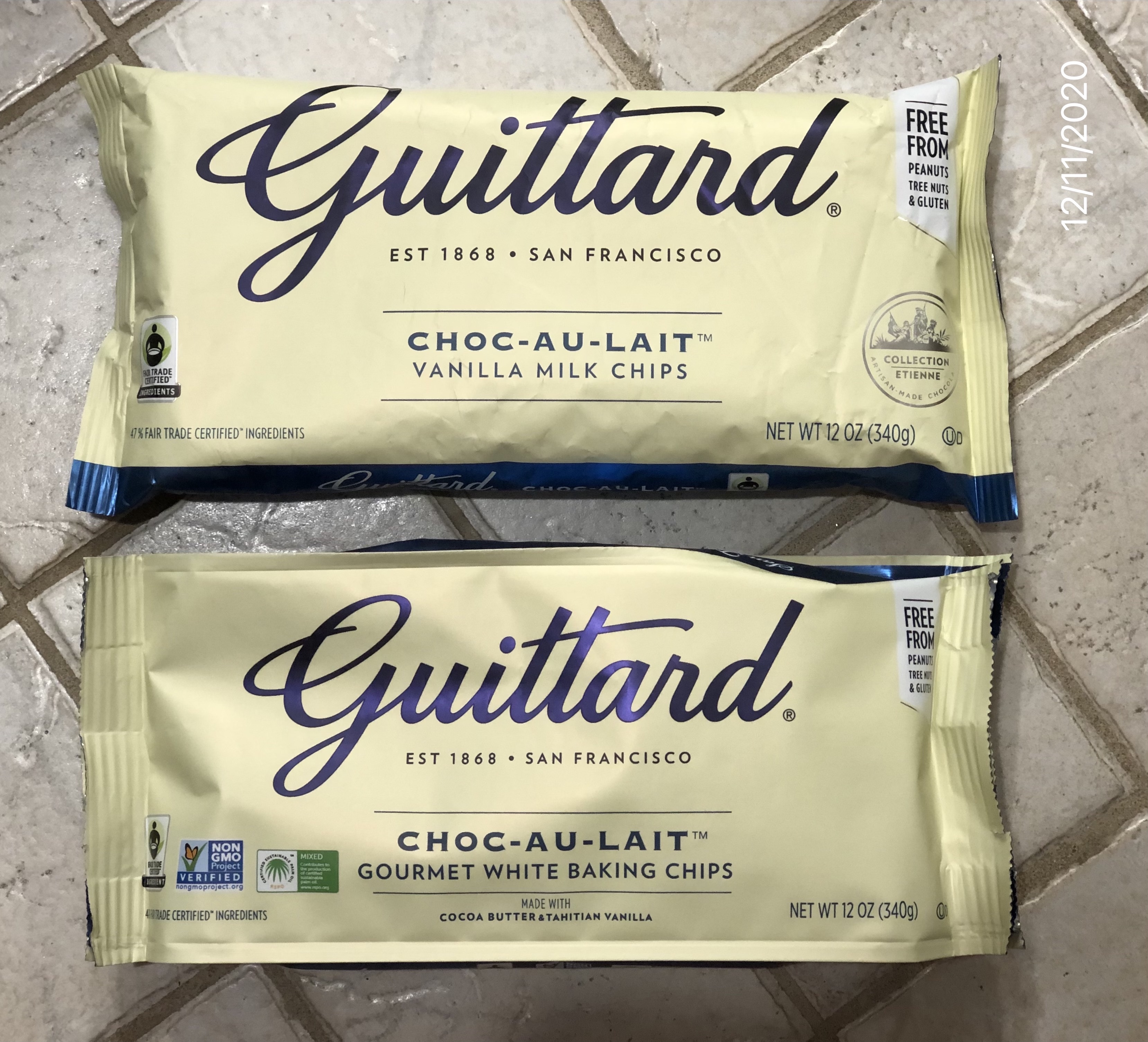 ---
| | |
| --- | --- |
| Send mail to Al about this page. | Last updated 26Dec2010, 04Mar2019, 11Dec2020 |